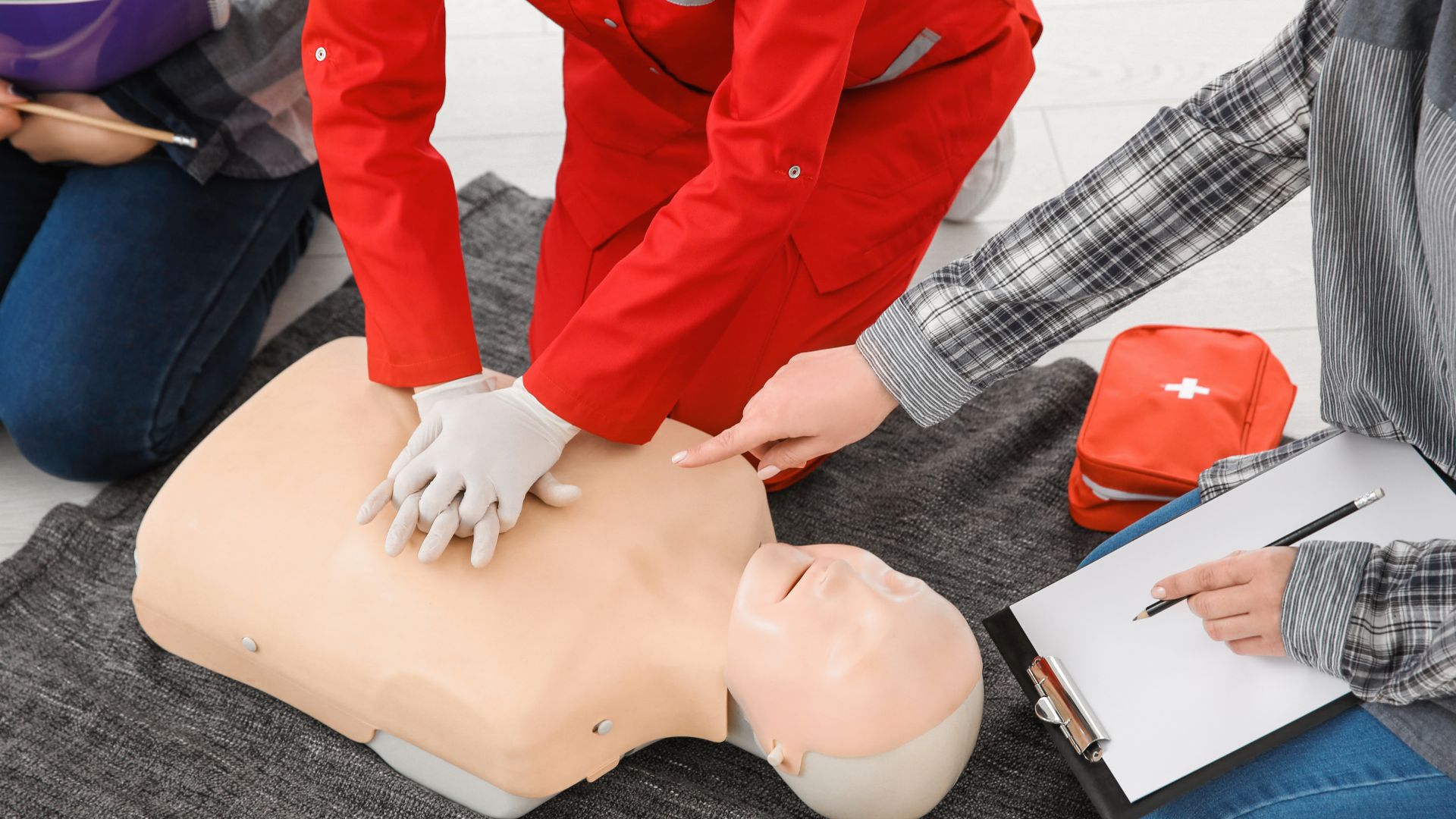 Being able to help save someone's life get is priceless, and thankfully, all of us can learn how to approach a cardiac arrest victim and administer proper CPR.
Short for cardiopulmonary resuscitation, CPR is one of the most straightforward medical techniques used to restore a person's heartbeat. In addition, today, more than ever, learning CPR is pretty easy, affordable, and accessible to everyone. The American Heart Association (AHA) and the Red Cross are two of the most notable CPR certification organizations offering CPR certification classes among BLS, AED, First Aid, and so on. 
When it comes to learning CPR, it's important to understand that there are three main types of CPR classes: in-person, online, and through a blended learning model. Even though the gist of the matter is more or less the same, there are tangible differences between online and in-person CPR classes.
In this article, we'll focus on the details revolving around in-person and online classes so that you can understand the differences and make the best decision for you.
In-Person CPR Classes
One of the options to get a certificate in CPR is to attend the course in person. These types of classes are prescheduled, and participants can join in some of the available classes. Not so long ago, people had no choice but to physically attend a CPR course to become certified.
Luckily, since more of the world is shifting to digitization, CPR courses have become readily available as online classes. You can think of in-person CPR classes as a typical classroom course with a teacher (in this case, an instructor) explaining the matter.
One of the major setbacks of in-person CPR classes is the lack of flexibility. Namely, if you were to enroll in an in-person CPR class, you would have to follow the schedule and timetable of the course. In other words, you won't be able to choose which days or hours work for you — what's scheduled as the time and date goes.
If the class is set to be held at 5 PM on a Saturday, that's the only option you have. Such inflexibility can be detrimental to working individuals, parents, and so on, who can't work their way around the predetermined dates and hours. In such a scenario, a person would probably need to be absent from work to attend a class.
Besides the inconvenience of scheduling, in-person classes are also more expensive than online classes. The main reason for the pricing is because of the overhead costs, the physical space where the classes are held, and so on.
What You Will Learn in In-Person Classes
As we mentioned, in-person CPR classes are held by a licensed CPR instructor who will explain, demonstrate and define everything you need to know about performing CPR. An in-person CPR certification class starts with an introduction to the CPR guidelines. In that context, the American Heart Association (AHA) is the leading creator of those guidelines.
Next, the instructor will teach you how to handle a cardiac arrest emergency, a choking event, and strokes.
How Long Does an In-Person CPR Class Take?
If you enroll in an in-person online class, you can expect it to last anywhere from 2.5 hours and up to 3 hours time. For the sake of comparison, a CPR/First Aid certification class lasts longer, typically from 4 to 6 hours.
In addition, the duration of an in-person CPR class depends on whether you're taking the class along with first-time CPR learners or with a recertification group. On the latter occasion, during a recertification process, the class will be significantly shorter, as opposed to taking a CPR certification class for the first time.
Also, which training agency you choose will also influence the duration of the course. The reason for this is that different service providers structure their CPR classes differently. Some will take longer, while some will be completed faster — it depends on the course layout and learning curriculum.
Online CPR Classes
Online medical certification is the alternative to the in-person CPR certification we mentioned in the beginning. Thanks to having this option, learners get the quality of in-person CPR classes but at the pace that works for them.
Online CPR classes do not impose physical attendance in a classroom but are entirely held online. To that extent, you won't be able to do hands-on skills practice.
Whoever enrolls in an online CPR certification course can set their own pace, making this type of certification method a great option for busy individuals.
Another important characteristic of online CPR classes is that, if you don't pass on the first try, you can retake the certification exam anytime, at your own convenience, without pre-scheduling, which isn't the case with in-person CPR certification courses.
As opposed to in-person CPR classes, there's no instructor present in the course's online variant and no costs for physical learning materials. Everything can be downloaded or accessed online, depending on the curriculum.
With all of the above in mind, online CPR certification courses are less expensive than in-person classes. You can see the breakdown of the details in AHA's online CPR course and get a better picture of what to expect.
What Will You Learn in Online CPR Classes
Since all of the learning is done exclusively online, there's no option for physically demonstrating your skills. On the other hand, you will learn what CPR is, when to perform chest compressions, at what pace, how deep they should be, and so on.
More or less, you will learn the same pain points of CPR but without the option of having an instructor present who might answer your questions, should you have any.
How Long Does an Online CPR Class Take?
How long the online CPR course takes depends on your own pace and the flexibility of your schedule. It can last anywhere from 30 minutes to a few days – it is really up to you. You can complete the course in one sitting or divide the materials into sequences that might be easier for you to comprehend.
FAQs
Having a lot of questions about CPR certification is totally normal, especially if you want to become certified in cardiopulmonary resuscitation for your own benefit. Let's review some of the most commonly asked questions about CPR classes, both online and in person.
Can anyone take an online CPR class? Are there age requirements?
The AHA hasn't issued any age restrictions regarding learning CPR. But, as a rule of thumb, if you're able to pay for the course and follow the curriculum, you can sign up for it. In fact, CPR cards are allowed to be issued to children as young as 10 years old since CPR has more to do with bodily strength than age.
Is there an expiration date on a CPR certificate?
Once you get your CPR card, it will be functional and valid for up to 2 years, after which it will be up for renewal.
How many questions are there on the final CPR exam?
The final CPR certification exam usually contains 10 to 30 multiple-choice questions.
Is taking the CPR test online more difficult than doing it in person?
Absolutely not. Online CPR certification courses are no more difficult to take than standard in-person courses. In all fairness, it is less difficult than in-person CPR certification courses.
In Conclusion: The Details of In-Person vs Online CPR Certification Courses
If you're enrolling in a CPR class because you want to learn the technique for yourself and not because your employer has made the practice mandatory, then online CPR certification classes are your best pick.
On the other hand, if you're a medical student, a healthcare worker, or are otherwise linked to medicine and happen to work with other people, then skip the online CPR certification classes and only go for the in-person course option. In addition, if you're a working professional in need of continuing education units (CEUs) to maintain your license or certification, you can check with the Red Cross and their training services.
Whether you choose the online or in-person CPR certification course option, you will be acquiring valuable knowledge on how to act in the event of a medical emergency like strokes, choking, or cardiac arrest.